The Relay/Input add-on board allows WebIO control and monitor of 4 relays and 4 inputs with automation and notification (email and text notification when used with PC software). The Relay Board comes without an enclosure.
It is the resposiblilty of the customer to correctly and safely connect relays and inputs to devices of choice. Incorrect connections in some cases can cause damage to relay board or devices. A basic understanding of electronics is required.

This kit includes:

Relay Board for Version 3.6 or higher
WebIO-TM PC software for additional automation and notification
Relay Board power supply
Cable for connection to WebIO expansion port
What you will need:

A WebIO version 4.0 or version 3.6 or higher

The Relay Board includes a 30 day satisfaction guarantee.
The Relay Board is a kit, it is recommeneded that customers have a basic knowledge of electrical wiring and safety.


Expansion Relay/Input Board


SKU#: KE-4050
Price: $84.00 USD + $12.50 S&H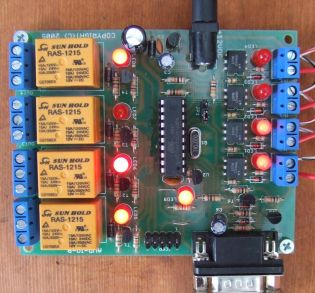 Relay and Input board for WebIO Exp Port