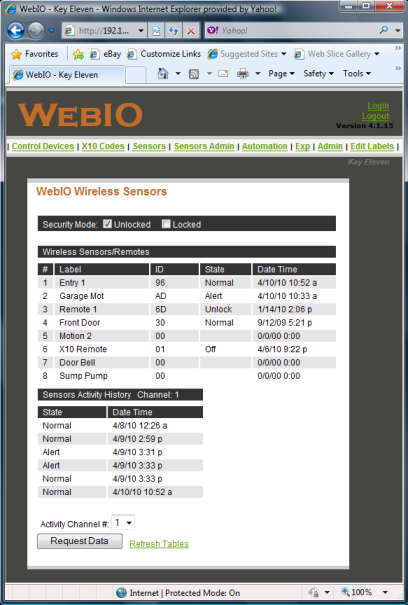 Wireless Sensors Web Page

The WebIO Sensors web page is where you will find a list of your wireless sensors (up to 8 sensors) along with the sensors current state of Alert/Normal, On/Off or Lock/Unlock depending on sensor type. Each sensor reading is also date/time stamped.
WebIO saves a sensor state history for each of 8 sensors. The Sensors Page, also displays the sensor activity history of the currently selected sensor. The activity list shows the last 6 sensor readings that have changed states comparied to the state before the previous state. This allows the list to span a longer period of time without saving every "heartbeat" state. Some sensors periodically transmit a "hearbeat" message with its current state to show that the sensor is still operating. Only the most current "heartbeat" message is stored in the sensor history to save on memory space.

Each wireless sensor message received by WebIO is also transmitted on the TCP/IP Ethernet network to the WebIO notification and automation PC software and/or the KE-iHome Internet portal web service where every sensor reading is stored and analyzed for more advanced automation options and email or text message notification.